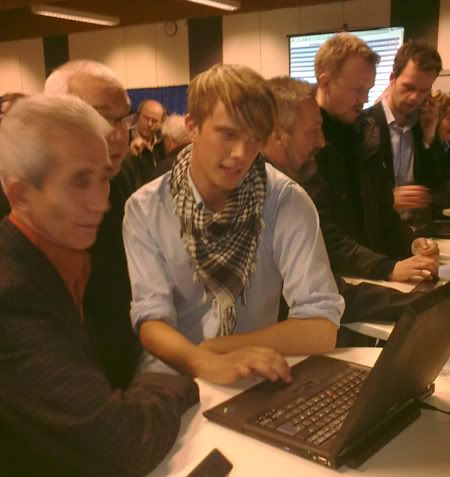 MR. BOYFRIEND GOT ELECTED!! We just found out about 30 minutes ago. He got in with 704 personal votes and is from the 1st of january 2010 a member of the city counsil in Odense, Denmark. Maybe I should start calling him "Mr. Politician" instead of "Mr. Boyfriend" here on the blog? Haha. I'll be back later with pictures from our electionparty last night, my outfit from last night AND more... Mr. Boyfriend and I are in the local paper today.
---------------------
HR. KÆRESTE ER BLEVET VALGT! Vi fik nyhederne for ca. en halv time siden. Han fik 704 personlige stemmer og endte som nr.5 på den socialdemokratiske liste. Han er nu officielt et medlem af Odense byråd fra 1/1 2010 (og det betyder også flere penge til mere shopping til mig... eller noget... tror vist lige jeg skal ha' en snak med ham). Vi har tilbragt formiddagen og det første af eftermiddagen i Marienlystcenteret i Odense, hvor vi har fulgt stemmerne som de kom ind løbende. Øverst på billedet er Hr. Kæreste ved at tjekke de nyeste tal. Måske skulle han omdøbes til "Hr. Politikker" istedet for "Hr. Kæreste" her på bloggen? hehe.
Jeg er tilbage senere med billeder fra valgfesten igår, mit outfit fra igår (som endda blev nævnt i Fyens Stiftidende i dag) og så med en artikel om Hr. Kæreste og jeg som er i stiften i dag.