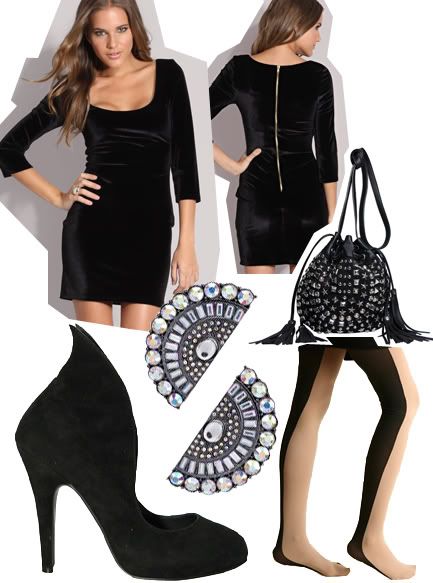 Here's what I'm planning on wearing tonight. Asos velvet dress, Friis & Company heels, Asos Chanel-ish two-toned stockings, Mango earrings and My Favorites (Friis & Company) studded bag. The some diva-ish dark eyes and loads of lipsgloss and blush. Not sure about the hair yeat - but I'm thinking loose hair with some big soft curls. Of course I'll take an outfit-picture of it when I'm ready and show you tomorrow.
HAPPY NEW YEAR!!
---------------------------------
Her er hvad jeg har planer om, at hoppe i til i aften. Asos velour kjole (med synling lynlås i ryggen), Friis & Co stiletter, to-farvet strømpebukser fra Asos (very Chanel-ish), Mango øreringe og nitte taske fra My Favorites. Jeg regner med at lave en mørk diva-ish øjen-makeup tilsat masser af lipglosses og blush. Håret bliver nok løst med nogle store bløde krøller. Måske tager jeg også et enkelt armbånd på - don't know yet. Skal selvfølgelig nok forevige outfittet, når det er på og vise jer det i morgen.
GODT NYTÅR!!