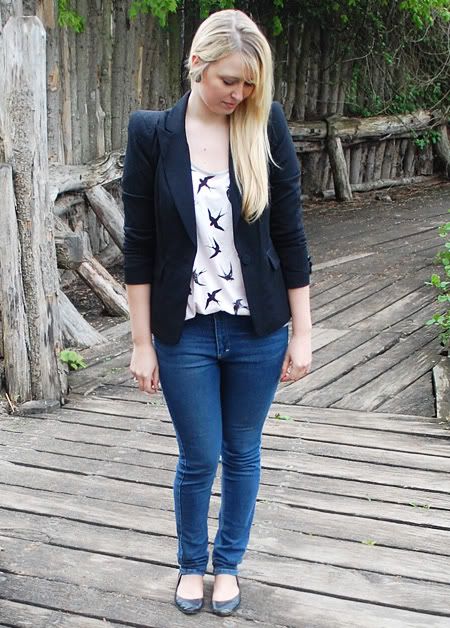 Gina Tricot jeans, Gina Tricot top, Gina Tricot blazer, Primark flats

Dagens outfit er knapt så spændende, men det virker: jeans, top og blazer - en klassiker! Toppen er den hypede svaletop og den er en smule mere lyserød end her på billedet. Og så er jeg vist allerede arbejdsskadet - tjek lige hvor mange af delene der er fra Gina Tricot... ups.
Nu vil jeg lægge mig til at se serier - jeg er blevet lidt hooked på How I meet your Mother (jaja, 20 år efter alle andre har været der). Vi skulle egentlig ha' været til fest hos vores ven Abbi i aften, men jeg er træt og Hr. Kæreste har haft hold i nakken det meste af dagen, så vi springer over. Vi skal desuden ud og se på en lejlighed i morgen tidlig, så vi synes det var smartest at springe sprutten over i aften. Det virker mest voksent, at troppe op uden alko-ånde, når der er tale om boligkøb.

My outfit today when we were at the zoo. Just the classic "top, jeans & blazer".