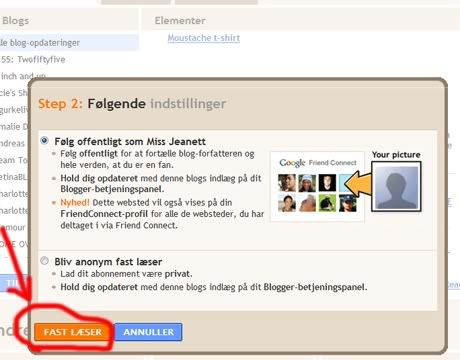 Jeg kan se, at der stadig er rigtig mange af jer der kigger herinde. Som nævnt er jeg flyttet til http://www.missjeanett.dk/, så det ville være rigtig cool hvis i kom derind istedet for. Pt virker hverken Bloglovin eller "Faste læsere" på den nye blog, men der arbejdes stærkt på det. Jeg har dog fundet en måde hvorpå i kan følge den nye blog i google reader/faste læsere med det SAMME, så i får nye indlæg ind der ligesom i gjorde før. I kan kigge på guiden her på billederne. Sig til hvis det volder jer problemer, så hjælper jeg gerne!
Billede 1: Gå ind til oversigten, hvor i får nye indlæg fra alle de blogs i følger. Nede i bunden skal i klikke på den knap der hedder "TILFØJ".
Billede 2: Skriv adressen på min nye blog i liniefeltet, den er http://www.missjeanett.dk/ (husk http:// !). Klik derefter på "NÆSTE".
Billede 3: Her skal i bare trykke på den orange knap "FAST LÆSER" og vupti! Nu får i indlæg fra den nye blog ligesom i gjorde med den gamle. Håber på at se jer inde på bloggen! Ha' en god lørdag!

How to add my new blog to your Google Reader/Friend connect. The new adress you have to add is http://www.missjeanett.dk Hope to see you soon on my new blog!