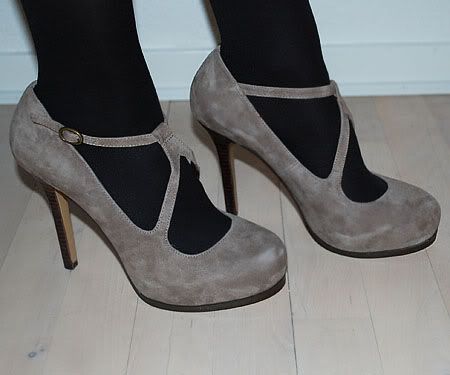 No, these aren't from Mr. Boyfriend - you'll have to check back later tonight to see what that was. These heels was one of the gifts I got from my parents and they fit perfectly, as you can see. Love the high heel, the build-in plateu (2 cm) and the colour. I'm gonna use these a lot! And they look good with both black tights and without.
They're from Asos and you can get them here for £40
-------------------------
Nej, det her er ikke gaven fra Hr. Kæreste - den må i vente med til senere i dag (så kig forbi senere). De her sko var en af gaverne fra mine forældre og de passer simpelthen perfekt. Er vild med det 2 cm indbyggede plateu og farven. Vi kommer til at være meget lykkelige sammen! Og er egentlig vild med dem sammen med de sorte strømpe - det giver en fed kontrast. Nu vil jeg smutte hen og slappe af til en god film - har spist frokost med Hr. Kæreste familie i dag og efterfølgende været til træning, så nu fortjener jeg noget afslapning. Vi vil gerne ha' noget sundt mad i dag, men kan ikke finde ud af hvad der har åbent af take-away? Ved i om Sunset har åbent i Odense? Submarine har lukket.
Skoene er fra Asos og i kan få dem her for 40£ (ca. 340 kroner)