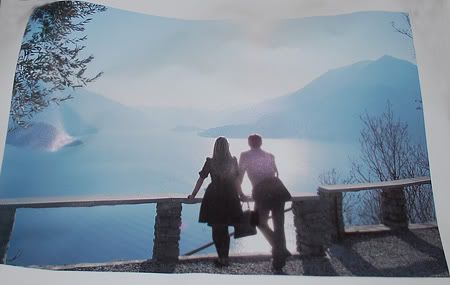 I've really tried to take a good photo of it - but it doesn't really work. This is the best I could do! Mr. Boyfriend took some pictures from our trip to Milan, Italy this year and put them together so it looks like we're in the same photo. The he had a big version (1 x 1.5 meter) made so it can be hung up in our bedroom. I love this gift - it's personal, romantic, creative and full og memories. He said that it's a beautiful picture, but also very "us" - it shows the two of us on adventures together, looking out on the world together. How can a girl not love a present like that?
You can see the original pictures below.
---------------------------
Jeg har virkelig prøvet, at tage et godt billede af det, men det bliver åbenbart ikke bedre end det her (det er mere detaljeret og knapt så blåt i virkeligheden). Det her er gaven fra Hr. Kæreste. Han havde taget 2 billeder fra vores tur til Como Søen, Italien og photoshoppet dem sammen, så det ligner at vi står sammen på billedet (se originalerne nederst). Det billede jeg har fået er 1 x 1,5 meter stort. Han sagde, at det for det første var et smukt billede, men samtidigt så repræsenterede det os sammen på eventyr, hvor vi ser ud på verden sammen. Tror vist de fleste af os tøser ville smelte over sådan en gave - jeg gjorde ihvert fald! Nu skal jeg ha' det i ramme og så skal det op inde i soveværelset.
Så i var et par stykker der var tæt på med jeres gæt om malerier.
(Og det opmærksomme læser vil måske se, at det er fra samme billede-serie som min blog-header)