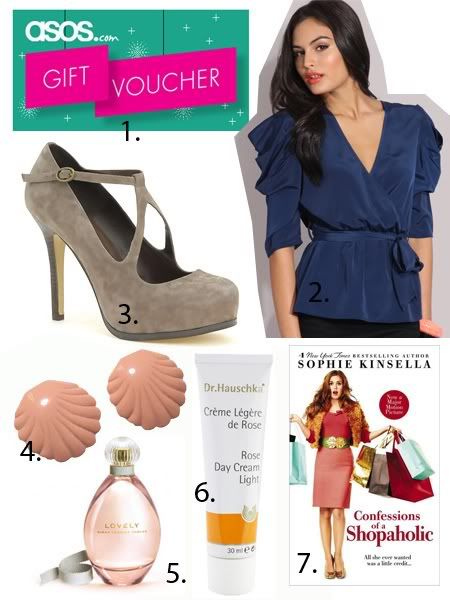 Here's the gifts I got besides the amazing one from Mr. Boyfriend:
1. Gift voucher for Asos.com
2. Blue wrap blouse from Asos.com
3. Sueded heels from Asos.com (yes, I like Asos)
4. Shell earrings from Friis & Company
5. Parfume "Lovely" from Sarah Jessica Parker (one of my favorites!)
6. Dr. Hauschka "Rose Day creme light"
7. DVD: "Confessions of a shopaholic"

Now I'm going to my parents place (again) to attend their traditional christmas lunch. My friend Mikkel is also coming and normally my good friend Cuong is also there, but he's in France celebrating christmas with his french girlfriend and her family. He'll be in Denmark for New Years -yay!
---------------------------
Her er mine andre julegaver udover den jeg fik af Hr. Kæreste:
1. Gavekort til Asos.com
2. Mørkeblå bluse fra Asos
3. Ruskinds heels fra Asos
("Hi, my name is Jeanett and I'm a Asos-holic!" - og det har min familie heldigvis fundet ud af haha)
4. Muslinge-øreringe fra Friis & Company
5. Parfumen "Lovely" fra Sarah Jessica Parker
6. Dagcreme fra Dr. Hauschka der hedder "Rose Day Creme Light" (en mere let version end den normale "Rose Day Creme").
7. DVD: "Confessions of a Shopaholic".
Nu vil jeg smutte ud til mine forældre (igen) og æde til jeg driller hjem. 2. juledag har vi altid vores traditionelle julefrokost hos dem inkl kærester og tætte venner. Min ven Mikkel skal også med og normalt er min gode ven Cuong også med, men han er i Frankrig pt, hvor han fejrer jul med hans franske kæreste og hendes familie. Han kommer dog til DK til nytår som vi skal holde sammen - yay!