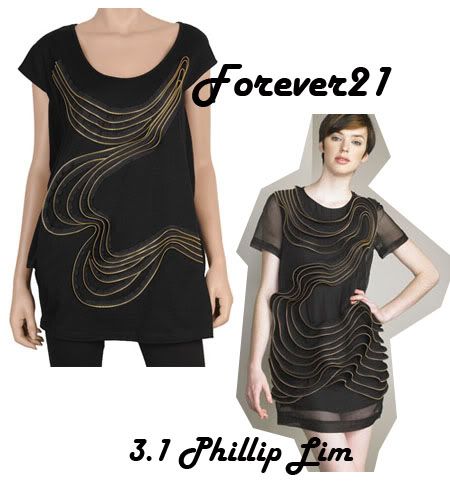 It has been a long time since I've done one of these "designer vs. highstreet" entries. And last night I found this dress on Forever21 which looks so much like the one from 3.1 Phillip Lim (the SS09 collection). Of course there's more details on the dress from 3.1 Phillip Lim, but it's also a more expensive than the one from Forever21. What do you think? Could you live with the less detailed and very cheap version from Forever21 or is this a case of only the original being the cool one?
The dress from Forever21 is available in black and ivory. It's $32 and you can get it here.
---------------------------
Det er efterhånden et stykke tid siden jeg har lavet en af de her "designer vs. highstreet" indlæg, så da jeg igår faldt over den her kjole på Forever21 så vidste jeg tiden var til endnu et af den slags. Den ligner jo virkelig meget den kjole fra 3.1 Phillip Lim's SS09 kollektion. Selvfølgelig er der flere detaljer på den fra 3.1 Phillip Lim, men den er også en DEL dyrere (og udsolgt). Hvad synes i om den her? Kunne i nøjes med den billige version eller er den kun den dyre der holder her?
Kjolen fra Forever21 kan fås i sort og ivory her. Den koster 32$ - altså ca. 170 kroner. Portoen fra Forever21 er dog lidt halv-pricy.