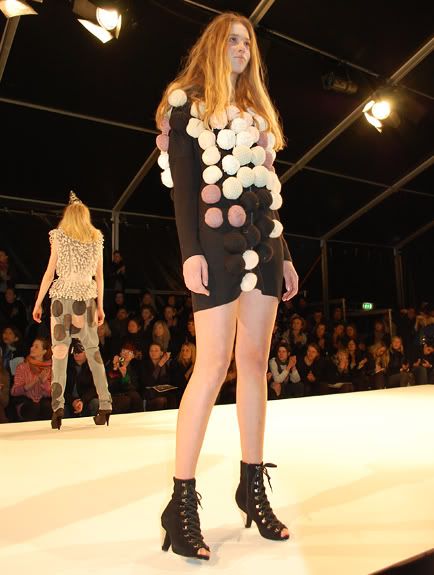 After the Friis & Co blogger-brunch on saturday I went straight to watch the show at Kea Design. Me and Mikkel went together and we met Nicklas and the girls from A Fashion tale at the show. Mikkel and I was so lucky to get frontrow seats. The clothes itself wasn't that interesting. There was a nice long knitted dress, but that was about it that I liked. But it was fun to attend a show! Now Copenhagen Fashion Week is over - I think it was weird to look a winter clothes when all of us are dreaming of summer. And I have to admit it - I'm just more into spring/summer collections that autum/winter in general. Now I'll start thinking of what to pack for my trip to Dubai friday... wow only 4 days away now!
By the way - we spotted the London-based blogger Gala Gonzales sitting frontrow at the show too.
----------------------------
Efter Friis blogger-brunchen i lørdags smuttede jeg direkte til Kea Design show sammen med Mikkel. Der mødte vi Nicklas og pigerne fra A Fashion tale. Mikkel og jeg var så heldige, at få frontrow pladser - ret cool når det nu var mit første show. Vi fik spottet lidt få kendisser: bla. meget gravide Szhirley, sangerinden Aura (som rendte rundt og sang for sig selv efter showet... lidt underligt) og bloggeren Gala Gonzales fra London. Vi kunne se, at der egentlig også var reserveret plads på frontrow til Saseline, men hun var et no-show. Vi hørte rygter om, at hun havde været ude og feste lidt meget aftenen før til en af modeugens mange afterparties hehe.
Selve tøjet fik mig ikke rigtig op af stolen. Man kunne godt se, at de var flere om at designe denne "kollektion", fordi jeg manglede virkelig en rød tråd. Der var en cool lang strikkjole i starten af showet, men det var egentlig også det eneste jeg sådan faldt for. Derfor var det dog ret fedt, at prøve at være til et show. Håber bestemt ikke det er sidste gang. Nu vil jeg lukke og slukke for Copenhagen Fashion Week-snakken og istedet for se frem til min ferie til Dubai som allerede er på fredag - wow! Må heller komme igang med at få ideer til ferie-outfits.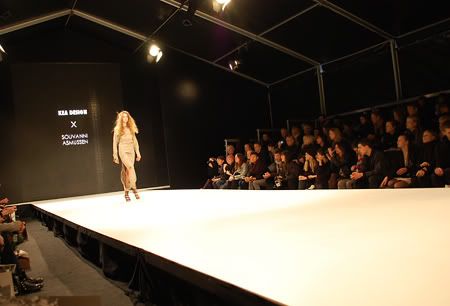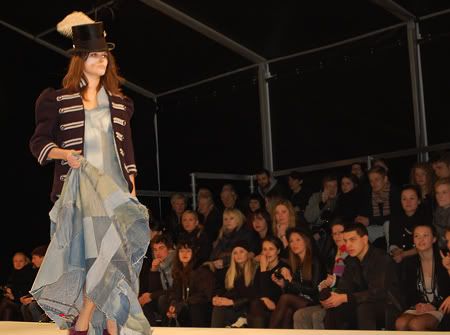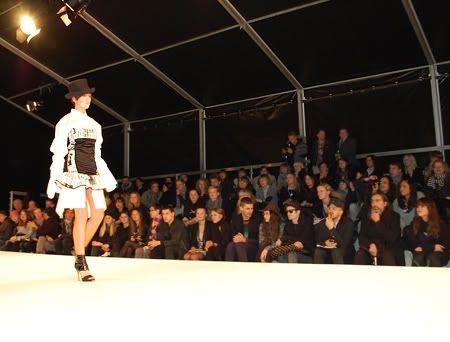 Blogger Gala with the cute brown hat