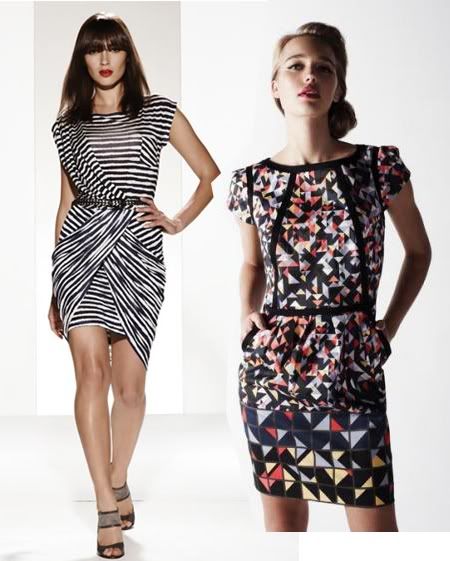 Normally Marks & Spencer isn't one of my favorite brands since their clothes tends to look a bit mumsy. But I just had a look at their new SS10 collection and I really, really like these two dresses! I've been by the Marks & Spencer webshop and sadly they're not there yet. I'll have to keep an eye on them because they're cool and Marks & Spencer items aren't expensive at all!
What do you think?

--------------------------

Normalt er Marks & Spencer ikke lige et mærke der er på favorit-listen. Mest fordi deres stil tit er lidt "tjekket mormor". Men jeg fik mig alligevel en lille overraskelse, da jeg kiggede deres nye SS10 kollektion igennem. Der fandt jeg nemlig de her to kjoler og de er da for fede! Jeg kan godt lide kombinationen af striber og draperinger på den første - og den anden har bare det fedeste mønster/print. Jeg skyndte mig straks ind på deres Marks & Spencer webshop, men kunne desværre ikke finde nogen af kjolerne derinde. De er nok ikke kommet endnu. Men jeg vil helt sikkert holde øje - Mark & Spencer's priser plejer at være helt i bund, så det ville være dumt ikke lige at sidde parat.
Kan i lide dem?