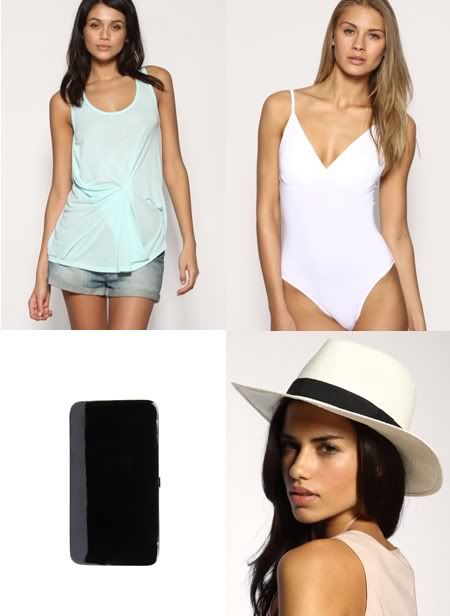 Igår fik jeg lige bestilt en omgang feriekøb på Asos. Hatten vil være perfekt til de dage, hvor man vil skåne sit ansigt og hovedbund lidt. Jeg havde en anden hat med sidste år og den blev jeg virkelig glad for. Især når man stod længere tid ude i vandet - man skal ikke undervurderer de skråler vandet kaster tilbage på én! Pungen røg med, fordi jeg mangler en (et logisk og praktisk køb for en gangs skyld). Og både den hvide body og den blå draperede top var sat en smule ned, så jeg tænkte de var et par billige sommerkøb. Regner med at bruge dem begge med et par sandfarvet shorts som jeg har købt i Gina Tricot. Body'en kan jeg 100% også bruge resten af året under andre ting.
EDIT: Et par af jer har spurgt efter link til den blå draperede top. Den er på udsalg til sølle 8 pund og den fås her.

My latest buys from Asos - hat, draped blue top, white body and a purse. I'm gonna bring all 4 items with me to Cyprus.