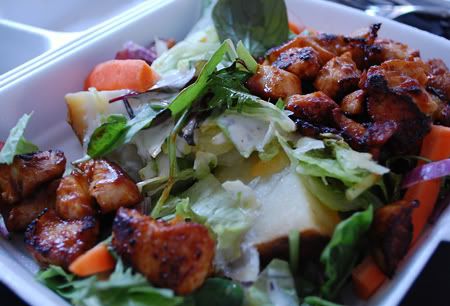 Lige nu sidder jeg og hygger med min veninde Tina. Dejligt at se hende igen! Det er lidt længe siden både pga flytning, sygdom og så har Tina haft travlt også *blink blink*. Men fantastisk at få catchet up og jeg ser hende heldigvis allerede igen på lørdag, hvor vi begge skal til det samme bryllup. Til aftensmad i dag bestilte vi mad fra Chinos. Hun fik deres klassiske burger og jeg fik en fyldt bagt kartoffel med BBQ kyllinge stykker. Super lækkert! Det er altså et godt sted det der Cafe Chino.
Jeg har det iøvrigt en del bedre, så jeg håber jeg er frisk nok til at smutte i skole i morgen.

I'm spending the night with my friend Tina and we ordered food from Chinos. I had a baked patatoe with pieces of BBQ chicken. It was good!