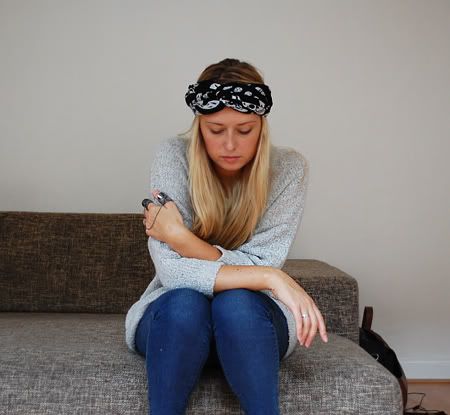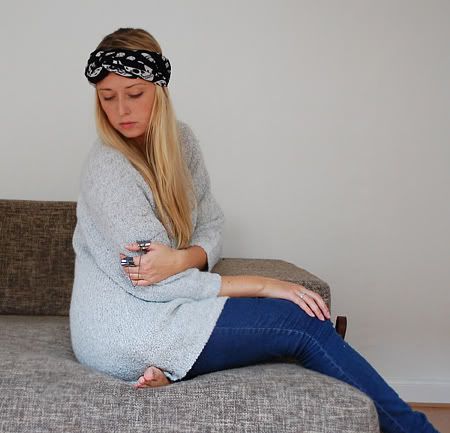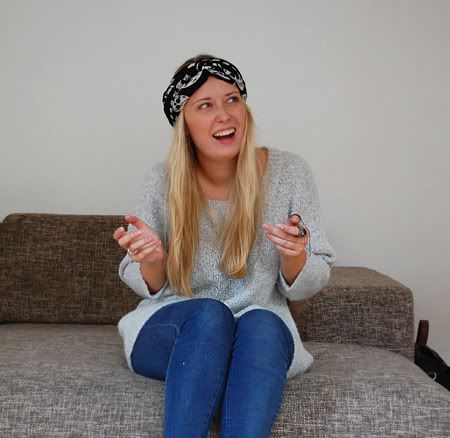 På sidste billede griner jeg af Hr. Kæreste der siger mindre pæne ting om turbanen - og selvfølgelig sker det imens selvudløseren går af.

Jeg har haft feber siden igår sent, hoster og har ondt i halsen. Ikke så fedt, når man har en ny lejlighed hvor alt ens tøj stadig ligger i flyttekasser og man stadig har en gammel lejlighed der skal rengøres. Så jeg måtte op i morges; først i skole og så ud i den gamle lejlighed og vaske vægge og paneler. Nu ligger jeg heldigvis herhjemme på sofaen og slapper af, så det bliver altså det her lidt alternative "dagens outfit". Jeg testede lige turban-trenden i dag og ved ikke helt om jeg synes et klæder mig. Det er dog med til at jeg har kunne holde varmen bedre i dag, så det point skal den trend da ha'. Hr. Kæreste synes jeg ligner en pirat - og han mente det ikke på den gode måde. "Jeg kan ikke så godt lide sådan nogle dødningehoveder. Ikke på piger". Okay så. Jeg spurgte om det så ville ændre hans mening, hvis tørklædet var blomsteret eller ens farvet. "Nej, så ligner du nok bare en hippie". Minus point til turban-trenden fra Hr. Kæreste. Og så vil jeg iøvrigt hellere ligne en pirat end en hippie - just for the record.
Jeg har iøvrigt min Tera Sweater fra Gina Tricot på her på billederne. Jeg har fået flere kommentarer og mails ang om jeg vil sælge den. Det vil jeg ikke pt - den er jeg rigtig glad for. Jeg skal nok sige til, hvis jeg fortryder. Men tak for interessen! :)


I'm sick today with a fever, but I went to school anyway and later back to the old apartment to cleen it. Not fun with a fever. I tried out the turban-trend today. It helped me keep warm so that's good, but Mr. Boyfriend hates it. He thinks I look like a pirate.