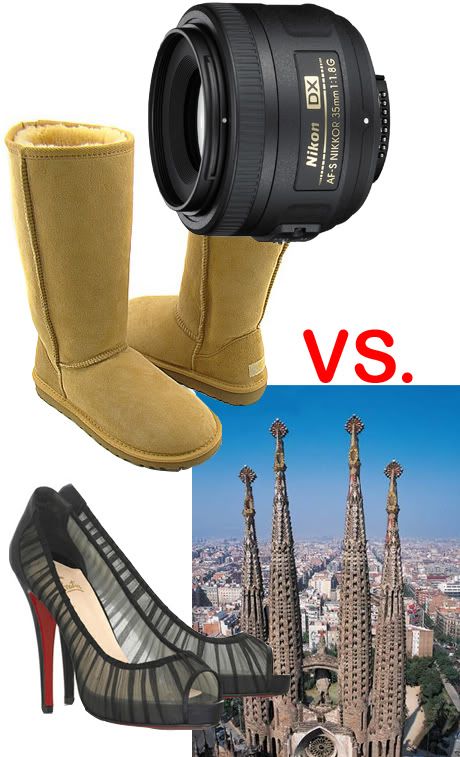 Jeg går i øjeblikket og spare lidt mere på pengene, da jeg har nogle lidt større ting jeg gerne vil. Jeg er bare i tvivl om hvilke jeg burde og har mest lyst til først. Der er ingen tvivl om, at det er de to nederste ting (Christian Louboutin stiletter og rejser) jeg har mest lyst til pt, men omvendt har jeg længe gerne ville ha' et bedre objektiv til vores Nikon kamera (og sådan noget er altså ikke billigt). Desuden afgik mine UGGs ved døden sidste vinter efter tro tjeneste i flere år. Alt den sne og vejsalt var ikke det de nød mest (er pisse misundelig på de bloggere der var til UGG-arrangement for nylig. Jeg kunne godt ha' brugt de støvler). Og de fleste eksperter siger, at den kommende vinter skulle blive endnu mere hård end den vi havde sidst. Så de UGGs ville virkelig komme på arbejde, hvis that's true.
Jeg er virkelig i tvivl - jeg ved godt hvad der er mest fornuftigt, men omvendt craver jeg virkelig rejser pt og synes også snart det er på tide, at jeg får mine første designer heels.

I'm not shopping so much these days because I have bigger things in mind. I would love new gear for my Nikon camera and if the danish winter is gonna be as harsh as the last one then I need my self a pair of UGG boots. But on the other hand I'd rather have a pair of Louboutin heels or travel some more (I'm really craving travel adventures these days). What to choose??