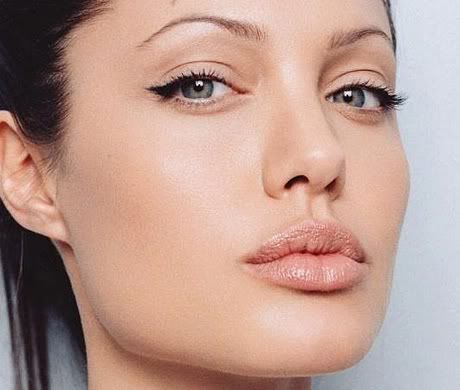 Jeg har haft en underlig dag. Tog i skole i morges, men fandt pludselig ud af at jeg havde en vagt her i dag - hvilket jeg slet ikke havde skrevet på min egen vagtplan. Derfor skulle jeg pludselig skynde mig indtil byen og ordne en masse ting, og træning + aftensmad blev aflyst. Rigtig ærgeligt fordi jeg havde glædet mig til at træne igen (har ikke trænet i 1½ uge) og jeg havde nogle lækre ideer til aftensmad, men det må jeg lave i næste uge.
Derfor havde jeg heller ikke så megen tid til at gennemtænke et indlæg til jer, så det bliver lidt en blandet landhandel. Billedet er fra min make-up inspirations mappe. Jeg er ret glad for denne slags "cat eyes" i øjeblikket, men det kræver lidt øvelse. Tilgengæld har jeg det underligt med, at Angelina lå i min inspirations mappe. Hun er en der, for mig, er et dårligt eksempel på mange ting (lovelife, familie og kropsideal), men hun får lige lov til at inspirere mig make-up mæssigt.

I had a stressful day so I didn't have a lot of time to do a worked through entry for you guys, sorry. That's why I'll leave with a picture of Angelina that inspired me make-up wise with her cat eyes eyeliner. I think she sets a bad exsampel when it comes to other things (her body, lovelife and family), but in this case she inspires me with her make-up.