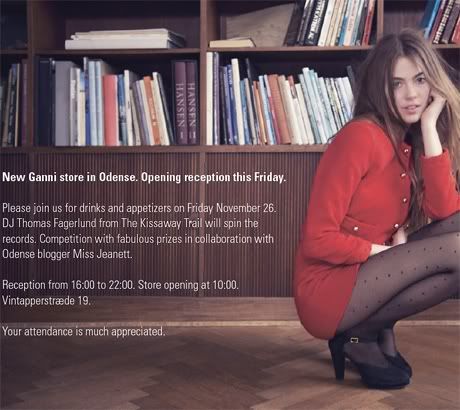 Jeg har lagt invitationen op i større version på min Facebook-side.


Ganni åbner ny butik i Odense i morgen og derfor holder de reception mellem 16-22 (der er Open by night i Odense i morgen). Der vil være drinks&snacks, konkurrencer og DJ er Thomas Fagerlund fra Kissaway Trail. Jeg er der også i den første time (16-17), så i må gerne komme hen og sige hej, hvis i har lyst. Der vil være to konkurrencer, hvor man i begge to kan vinde gavekort til butikken. Butikken åbner dog allerede kl. 10, hvis i bare har lyst til at shoppe lidt derinde. Ses vi?

Ganni is opening a new store in Odense and they're having a reception in the store on this upcoming friday. You're invited! It's from 4-10 pm and they will be a DJ, drinks&snack and some competitions where you can win giftcertificates for the store. You can see the invitation in a bigger version on my Facebook page.