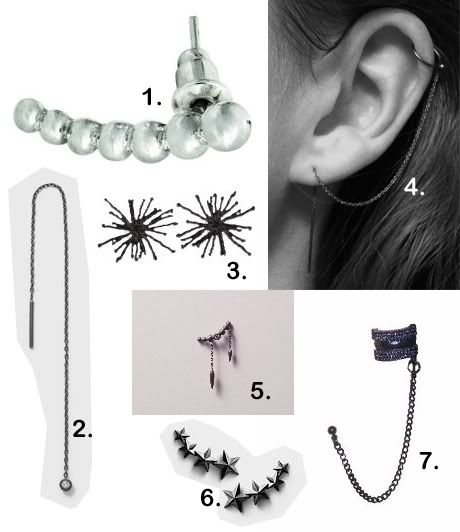 1. Ørering fra Ugabuga 250 kr 2. Ørering fra Line&Jo 3. Øreringe fra Ugabuga 300 kr 4. Earcuff fra Line&Jo 349 kr (billede lånt fra Carolines Mode) 5. Ørering fra Line&Jo 1099 kr 6. Øreringe fra Line&Jo 349 kr (pr stk) 7. Earcuff fra Ugabuga 249 kr

Selvom man i december skal købe en masse julegaver til andre, så er der jo ingen der siger, at man ikke må købe en enkelt eller to til sig selv! Jeg craver en del smykker i øjeblikket - især en del fra Line&Jo og Ugabuga. Jeg har besluttet, at jeg køber en af disse 7 smykker, når vi når payday. Kan i gætte hvilken?

I'm craving a lot of earrings at the moment - most of them are from Line&Jo and Ugabuga. I've decided to buy one of these next month for myself as an early christmasgift. Can you guess which one?