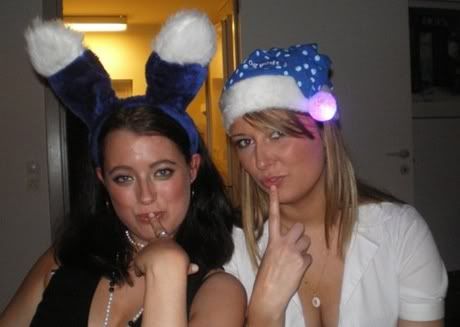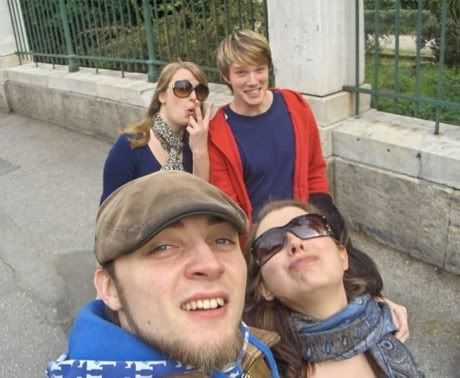 Lidt gamle billeder af Kat + jeg og et fælles billede af os alle 4 taget for 3 år siden (derfor er mit hår lidt mørkere og Hr. Kæreste ligner en konfirmand haha)

Jeg håber rigtig meget, at i vil hjælpe mig med det her. Jeg har tilmeldt mine gode venner og Hr. Kæreste + jeg til en konkurrence, hvor jeg har brug for jeres hjælp. Hvis der er nogle af jer der læser med på Kats blog, så ved i at i pt kæmper en hård for at få børn med hormokure, inseminering osv. Derfor vil vi gerne give dem et afbræk og en oplevelse sammen med os. Derfor må i MEGET gerne stemme lige HER. I kan stemme hver dag, så husk endelig at stemme flere gange! Finalisterne bliver offentliggjort d. 16. december og et dommerpanel vælger så de endelige vindere efterfølgende. Hvis vi vinder blogger jeg naturligvis fra vores ferie, så i kommer også lidt "med". Turen går til Rhodos! Jeg har skrevet følgende som min begrundelse for at vinde:
"Min kæreste og jeg sætter utrolig meget pris på at dele vores rejse-oplevelser med vores venner, da det er minder der aldrig kan tages fra en. Vi vil gerne give vores bedste venner en oplevelse sammen med os, da de pt kæmper hårdt med at få børn. "

I need your help! I've enter myself, Mr. Boyfriend and our best friends Kat and Andreas in a competition where we can win a trip to Rhodes. I've entered Kat and Andreas because they are right now going through a lot of treatments and such trying to have baby. The need a break to get away so please vote HERE. You vote in the orange box where it says "STEM". You can vote once every day! THANK you so much!