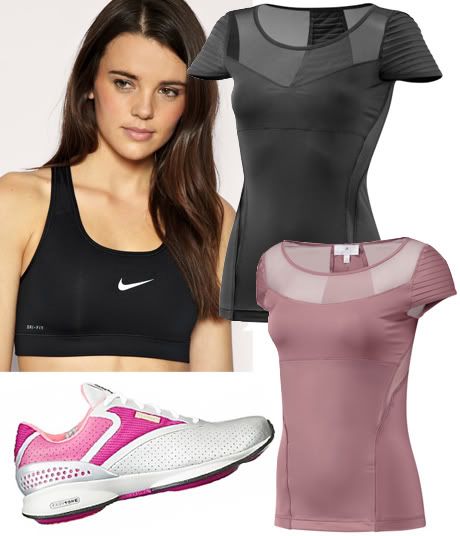 Dem jeg er på julegaver med er begyndt at spørge efter en ønskeliste og jeg er rigtig meget i tvivl om hvad jeg skal ønske mig i år. Ikke fordi der ikke er ting jeg gerne vil have, men fordi de ting jeg VIRKELIG går og drømmer om pt er i et prisleje som ligger lidt udenfor hvad vi i vores familie plejer at give for (fx. Louboutin stiletter og rejse til NYC). Og i min familie udveksler vi ikke kontanter juleaften - det har vi aldrig rigtig gjort.
Jeg har i år derfor haft lidt svært ved at sætte en liste sammen og jeg ved fra flere veninder, at de også har haft "problemer". Derfor vil jeg prøve at inspirere mig selv (og eventuelt jer) den næste uges tid. Jeg vil prøve at holde det i katagorier, fx. de sportslige ønsker (dette indlæg), læsestof, beauty-produkter, mode osv. Håber det giver lidt inspiration derude!
Som sagt er dette indlæg om de ønsker jeg ville skrive på, hvis jeg KUN ønskede mig sporty stuff til når jeg træner. Jeg har længe manglet en sports-bh og det var faktisk også skrevet på min ønskeliste sidste år, men det er sådan et kedeligt ønske synes jeg. Selvom den ville være rar at have. Jeg har længe overvejet Reeboks Easytone sko (hvem vil ikke gerne ha' extra nice numse og lår?), men jeg mangler som sådan ikke nye sko at træne i, da mine løbesko fra Adidas har det fint. Jeg har længe gerne ville ha' noget mere smart træningstøj (træner i sorte bukser og en tanktop) og de her to toppe fra Stella McCartney for Adidas er både smarte og smukke. Og de ser behagelige ud! Desuden er prisen ikke slem - ca. 400 kroner pr stk. Har i nogle sportslige ønsker på jeres ønskeliste i år?

Me and several of my friends are having "problems" with filling out our christmas wishlist. The things I'm dreaming about right now are too expensive for that kind of list (e.g. Louboutin heels and a trip to NYC). That's why I'm trying to inspire my self (and maybe you!) with some suggestions the next weeks time. Today I'm looking at things I could wish for when I'm working out. I've been needing a sports bra for some time, I like the idea of Reeboks' Easytone shoes and I think the two tees from Stella McCartney for Adidas are so beautiful!