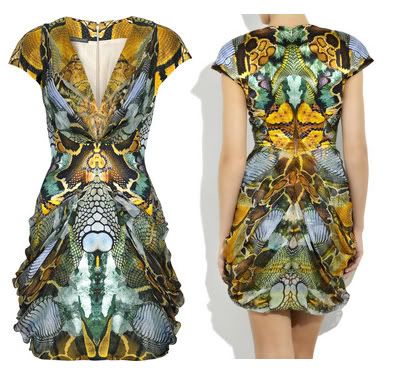 I'm in a bit of a shock right now. I was actually planning on blogging about this Alexander McQueen reptile-print silk dress because I just saw yesterday that it's now available on Net A Porter (it's here if any of you have € 2,975 to spare). But now this post is taking a tragic turn instead. I've just been notified that Alexander McQueen is dead - he took his own life. So sad - we truly lost a great designer. Just look at this dress - it's a masterpiece! McQueen was surposed to show his last collection at Paris Fashion Week the 9th of march. I don't know if they're still planning on showing it now, but my guess is that they are. It would seem weird not to show the man's last collection... ever. You can read more about his death here.
RIP Alexander McQueen - I'm sure you will be missed both as a human being and as a designer!
-------------------------------
Jeg er lidt i chok lige nu. Jeg havde faktisk planlagt, at blogge om McQueen og den her kjole i dag, da jeg opdagede igår at den nu kan fås på Net A Porter (i kan finde den her hvis i har ca. 22.500 kroner i overskud). Det var mit ultimative ynglings piece fra hans sidste kollektion. Men nu ender det med, at der her indlæg får en lidt tragisk drejning eftersom jeg lige har fundet ud af at Alexander McQueen er død. Han er netop blevet fundet død - han har taget sit eget liv. Rygterne siger, at han aldrig rigtig er kommet sig over sin tætte venindes Isabella Blow's død i 2007 (hun begik også selvmord efter at have fået kræft). Hvor er det bare trist. Og hvor har vi mistet en stor designer - bare prøv at se på den her kjole! Det er jo et kunsstykke i sig selv! McQueen skulle ha' vist sin sidste nye kollektion til Paris Fashion Week d. 9. marts, men jeg ved ikke om de nu viser den alligevel. Mit gæt er at de gør - det ville være lidt respektløst ikke at vise mandens sidste kollektion... nogensinde. I kan læse mere om hans død her (dog er det på engelsk).
RIP Alexander McQueen - jeg er sikker på du vil blive savnet både som person og designer.