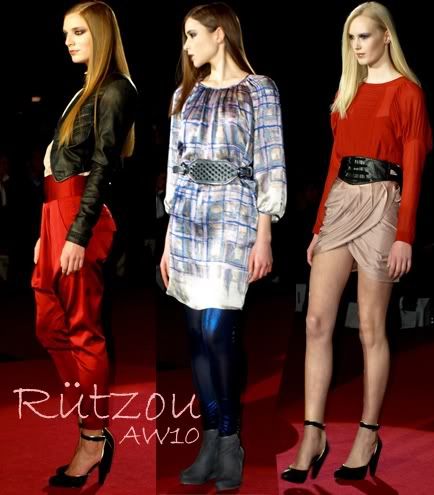 This week is Copenhagen Fashion Week and the shows started yesterday. One collections I was looking forward to seeing was Rützou. The collection's colours were black, bright red, blue, army green and nude. I really liked the red colour - it would please me if red became a hot colour for winter since I've always been a fan of red. I'm more hessiated with the army green. I looks good on the models, but it doesn't look good on everyone. Especially on winterpale-people. There was still some draping to be seen in the collection so if Susanne Rützou is right, then drapings are both hot this summer and for the upcoming winter. So go drape-nuts! (I know I will!).
What do you think of the collection? You can see more pictures here.
------------------------
Copenhagen Fashion Week er jo over os og de startede med shows igår. Pt. følger jeg bare med herhjemme i Odense fra min computer, men tager til KBH lørdag.
En af de kollektioner jeg var spændt på at se var Rützou. Kollektionens farver var sort, dyb rød, blå, army grøn og nude. Jeg er ret vild med den røde farve. Det ville virkelig ikke gøre mig noget, hvis den blev hot til vinter (selvom min hjerne pt. mest er indstillet på hvad jeg skal ha' købt til sommer). Tilgengæld er jeg lidt mere tøvende omkring den grønne farve. Den er lækker på modellerne (især de grønne palietbukser!), men vil den virkelig se laber ud på vinter-blege mennesker? I really doubt it. Desuden var der stadig en masse drapering at se, så hvis Susanne Rützou får ret, så holder draperingerne både til sommer og til vinter. Så gå i bare nuts i draperinger - I know I will! Generelt var det en fin kollektion, uden at jeg er fuldstændig blown away. Mine yngligns items er nok de labre røde bukser og den sorte kjole med skull-print.
Hvad synes i om kollektionen? I kan se flere billeder her (som er ret crappy if you ask me. Det kunne vi modebloggere ha' gjort bedre - selvom alle måske ikke er enige i det). Der er lidt bedre "lige på" billeder her, men tilgengæld ryger detaljerne og farverne er lidt mere fesne der. Og så er outfittet med de grønne palietbukser ikke at finde der?!