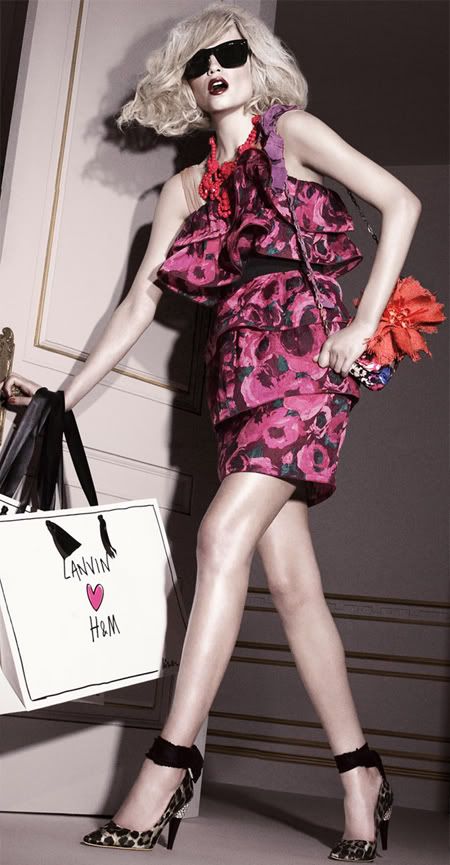 Dress 850 kr/ £99.99 - Bag 250 kr/ £29.99 - Necklace 200 kr/ £24.99 - Sunglasses 120 kr/ £14.99

Jeg så lige hos Maria, at der nu er kommet lidt priser på de forskellige Lanvin for H&M ting og så blev jeg selvfølgelig nysgerrig. Jeg gik på jagt efter både priser og nye billeder og fandt disse til jer (har endda siddet og brugt lidt extra tid i Photoshop, så i kunne få de størst mulige billeder... kom ikke og sig, at jeg ikke er god ved jer! hehe). Priserne er slet ikke så vilde som jeg frygtede! Kjolerne ligger på 700-850 kr og det er slet ikke slemt. Det vil jeg godt give, hvis der er en jeg forelsker mig i. I får her lidt større billeder og priser på de forskellige ting. Priserne er dog i pund, så hver opmærksom på, at de danske priser nogle gange bliver en lille smule dyrere. Er der noget i er fristet af endnu? Jeg ved ikke helt selv endnu - synes flere er kjolerne er fine, men er ikke forelsket endnu. Den røde halskæde her øverst ser tilgengæld fierce ud.

I've found some high resolution pictures of the leaked (I think they're leaked on purpose) photos from the Lanvin for H&M collection. I also found someprices on the items - they're under each picture. Are there any things you're considering so far?

Dress 850 kr/ £99.99 - Leather gloves 250 kr/ £29.99 -Clutch 200 kr/ £24.99



Left: One shoulder dress 850 kr/ £99.99 - Sunglasses 120 kr/ £14.99
Right: Coat 850 kr/ £99.99 - Necklace 290 kr/ £34.99 - Sunglasses 120 kr/ £14.99

Left: Tux jacket 590 kr/ £69.99 - Skirt 290 kr/ £34.99 - Bracelet 200 kr/ £24.99 - Sunglasses 120 kr/ £14.99
Right: Dress 670 kr/ £69.99 - Necklace 290 kr/ £34.99