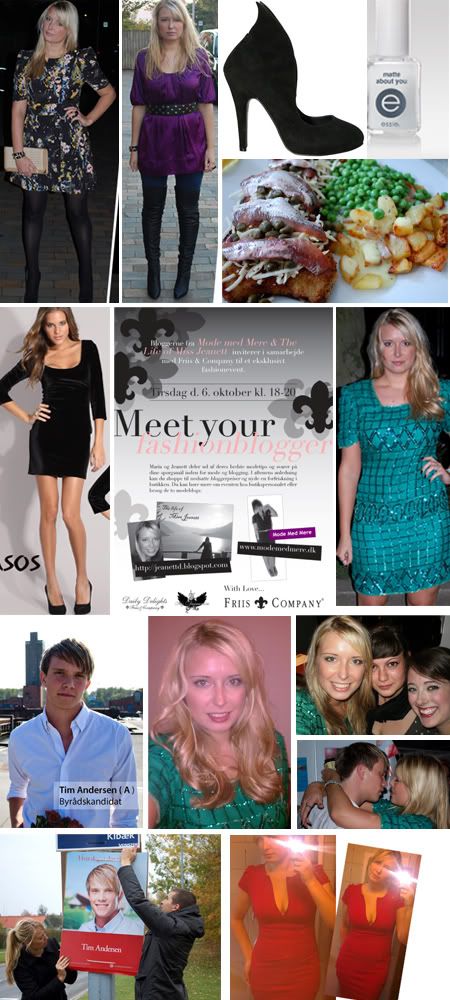 Jeg vil prøve noget nyt som jeg kalder "Tilbageblik". I starten af hver måned vil jeg tage et tilbageblik på den samme måned - bare året før (dvs. dette indlæg vil handle om oktober 2009). Ideen har jeg ikke fået selv, men har jeg set hos mange svenske bloggere (bla. Kenza gør det) og jeg synes det fungerer rigtig godt. Det giver muligheden for et blik tilbage i arkiverne, vi kan grine over trends vi måske savlede over sidste år og samtidigt kan de nyeste læsere lære lidt mere om mig. I må meget gerne sige hvad i synes om det og om i får noget ud af det. Jeg vil lige forsøge et par måneder - ihvert fald for min egen skyld. Måske kan jeg opdage nogle usunde shopping vanerne haha.
Oktober 2009...
... stod i kommunalvalgets tegn, da Hr. Kæreste stillede op til byrådet i Odense for Socialdemokraterne.
... var jeg ude og hænge valgplakater op en kold eftermiddag (meget koldere end vi har det i øjeblikket).
... holdte vi valgkampsfest for Hr. Kæreste, hvor en masse gode venner og politikinteresserede kom.
... købte jeg bla. sorte stiletter fra Friis & Co, Essie's "Matte about you", en rød kjole der skulle bruges til valgaftenen senere i november og en sort velour kjole fra Asos som endte med at blive min nytårskjole.
... bestilte vi rejse til Amsterdam for at besøge vores ven Nick som jeg gik på 1. semester med.
... spiste jeg wienersnitschnitzel hos mine forældre.
... deltog jeg i mit første event i forbindelse med bloggen. Jeg hostede "Meet your blogger"-event for Friis & Co sammen med Maria i Odense C. Jeg fik for første gang muligheden for, at møde en masse af jer læsere og det var vildt fedt. Men jeg indrømmer, at jeg var ret spændt og en smule nervøs, hehe.
I kan tage en rejse tilbage til alle indlæg i
oktober 2009 her
.
I'm starting a new thing here on the blog and I'm calling it "Looking back". Each month I'll be looking back on the same month - just the year before. So here's October 2009!