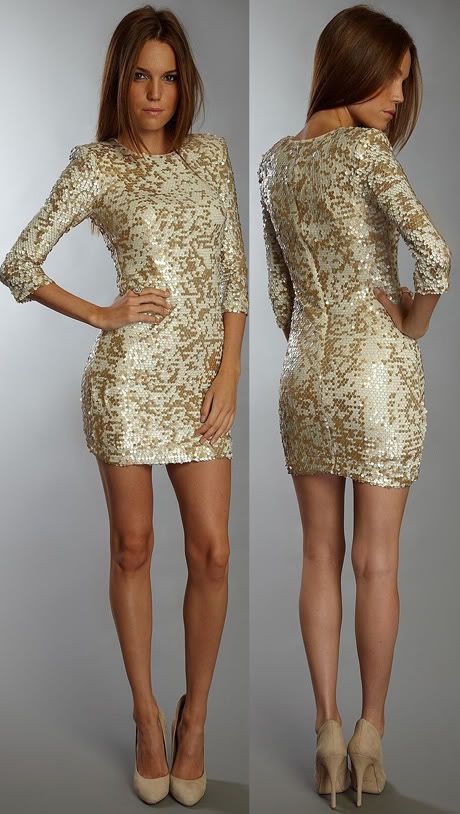 Jeg giver op! Jeg har nu jagtet denne kjole på Ebay i et par uger nu og det er fuldstændig umuligt. Ikke fordi der ikke er nogen salg, men fordi at de simpelthen bliver solgt til nogle priser jeg ikke kan og vil være med på. Jeg synes French Connection laver nogle fantastiske ting og jeg falder oftest for deres festkjoler, men de holder sig oftest nogle halv-pricey priser. Jeg mener, at denne stod i 160£ (ca. 1400 kr) til fuld pris. Den er sikkert det værd, men jeg skal altså tjene lidt flere penge før jeg kaster 1400 kr efter en festkjole. Derfor jagter jeg tit French Connection på Ebay, men lige denne bliver solgt fra 800 kr og op - og så kunne man jo lige så godt snuppe den fra ny? Jeg giver det lige en uges tid mere, men derefter tror jeg, at jeg dropper det. Den var nemlig tiltænkt evt nytår. Synes den er så laber! Er i begyndt at kigge efter nytårskjoler?
I må endelig sige til, hvis i falder over en der er billig. Jeg skal bruge en str. UK 12, da jeg synes FCUK tit er lidt småt i størrelserne (især over barmen). Og endnu bedre: Sig til hvis i har den og vil sælge!

I've been hunting down this dress from French Connection on Ebay for sometime now, but I'm almost about to give up. Not because there's not any for sale, but because they all sell for a very high price - more than I'm willing to give. Let me know if you find a cheap one in a size UK 12 (I think FCUK run a bit small in their sizes).