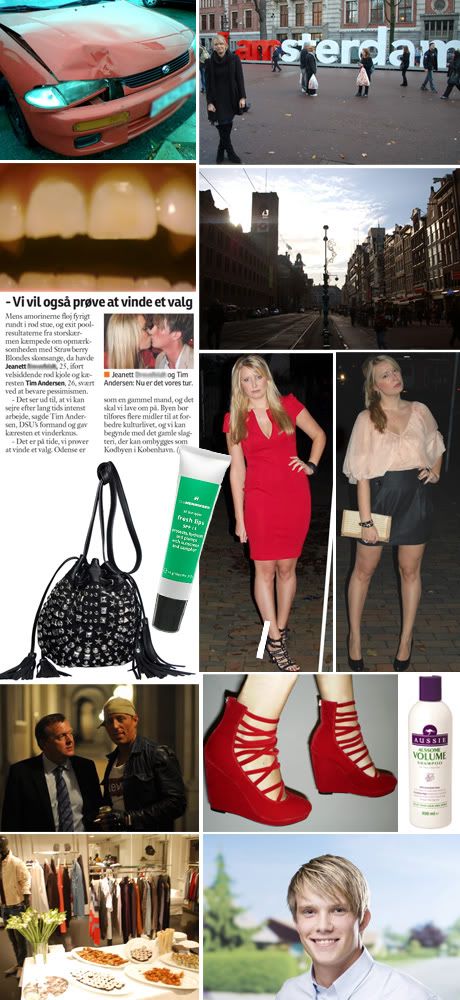 Jeg fortsætter med, at forsøge mig med det her "Tilbageblik", hvor jeg ser tilbage i arkiverne til samme måned året før. I tog ret positivt imod det sidste måned, så jeg fortsætter! Vi er idag trådt ind i november måned, så derfor ser vi på november 2009. Det var en ret vild og begivenhedsrig måned på godt og ondt.
November 2009:
... var vi i Amsterdam en forlænget weekend for at se byen og besøge vores ven Nick (som er hollænder). Vi havde en god tur på trods af, at jeg var syg det meste af turen.
... afholdte jeg min første konkurrence her på bloggen, hvor i kunne vinde produkter fra Aussie.
... startede jeg og min eksamensgruppe på vores eksamensprojekt - hejhej 3 weeks in hell!
... besøgte jeg for første gang H&Ms showroom i KBH. Det var også samme dag at jeg mødte bla. Kia, Merete, Maria og Mikkel for første gang.
... blev Hr. Kæreste valgt ind i Odense Byråd med over 700 personlige stemmer. Jeg var stolt!
... i samme forbindelse var jeg i avisen dagen efter valget sammen med Hr. Kæreste (kan huske at der var et par af jer der også havde spottet os i Fyens Stiftidende). I kan se artiklen + billede bedre her.
... blev jeg for første gang genkendt af en læser på gaden. Det var Kimmie der spottede mig på Baresso, hvor jeg syg og snottet købte mig en chai latte. Kimmie var så sej, at sige hej til mig!
... månedeskøb bestod bla. af en sej nitte taske fra Friis & Co (som jeg har brugt meget siden), min ynglings læbepomade fra Ole Henriksen og røde wedges fra H&M (som tilgengæld står næste ubrugt i mit skoskab).
... det var desværre også her, at Hr. Kæreste var indvolveret i en bilulykke, da en anden bil bankede op i ham. Han kom heldigvis ikke til skade, men var meget chokeret. For at det ikke skal være løgn, så kører jeg galt på min cykel få dage efter (på SAMME vej!!) og kysser bogstaveligt asfalten. Jeg mister en smule af den ene fortand.
... det var også i november måned, at min blog røg ind i lidt af en mediestorm, fordi jeg havde et billede af statsminister Lars Løkke og Sidney Lee liggende på min blog. Jeg røg både på Politikkens hjemmeside, Ekstra Bladet (hvor jeg blev beskyldt for at ha' lavet billedet selv) og en del andre steder. I kan se det originale indlæg her og læse mere om mediecirkusset her.
I kan tage en rejse tilbage til alle indlæg
November 2009 her
.
I'm continuing what I call "Looking back". Each month I'll be looking back on the same month - just the year before. So here's
November 2009
! It's was a busy busy month where a lot of things happen - both good and bad.